Het verhaal achter: Timberland & The Yellow Boot
Geschiedenis Timberland
Het Amerikaanse merk Timberland is bekend over de hele wereld dankzij haar uitvinding van de iconische 6" boot. De schoenen van Timberland hebben een optimaal loop- en draagcomfort en zien er bovendien ook nog eens heel goed uit. Dankzij haar jarenlange ervaring en kennis is Timberland een belangrijke speler geworden op de markt. Maar hoe is het succes van dit merk nou eigenlijk ontstaan? Hier leest u alles wat u moet weten over de geschiedenis van Timberland. Neem snel een kijkje in de wereld van dit prachtige outdoormerk! Hoe het allemaal begon Timberland is grote speler op de markt van outdoorschoenen, dankzij haar iconische 6" boot die niet alleen super praktisch is, maar ook nog eens wordt gezien als een waar mode-item. Timberland is opgericht door schoenmaker Nathan Swartz, die zijn carrière begon in 1918 als leerling bij een schoenmaker. Hier leerde hij het leer te sneden, naden te stikken en zolen te verbinden. In 1952 had Nathan Swartz de techniek zo goed onder de knie, dat hij besloot zijn eigen bedrijfje te beginnen en kocht daarom 50% van de aandelen bij de Abington Shoe Company in Abington Massachusette. Het duurde niet lang voordat Nathan genoeg had verdiend om het resterende belang te voldoen en in 1955 nam Swartz het dan ook helemaal over. Timberland was geboren.
Al snel introduceerde Timberland haar eerste waterdichte boots, die werden geproduceerd met behulp van een zogenaamde injectie molding technologie. Deze technologie was erg innovatief voor die tijd en deze schoenen werden dan ook in no-time razend populair.
Bekijk hier de volledige collectie van Timberland >
The Yellow Boot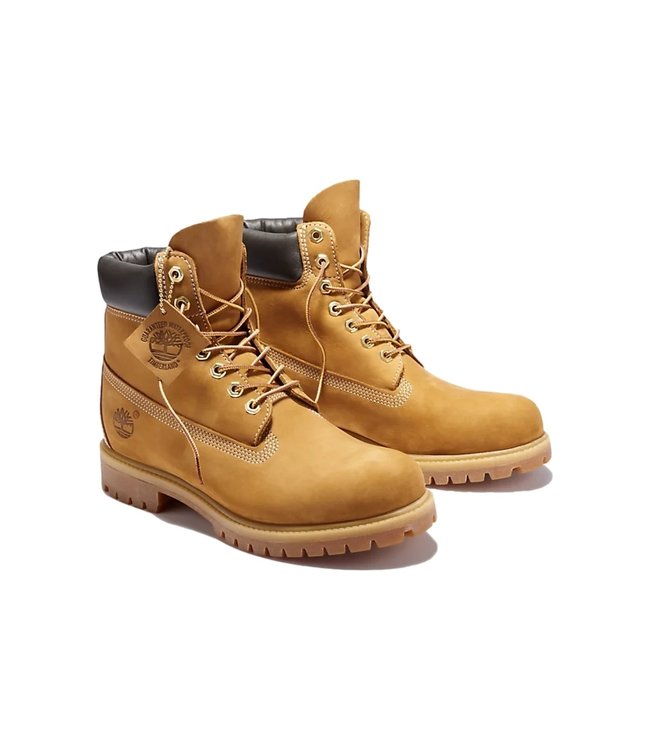 The Yellow Boot: een waar icoon
In 1973 verscheen Timberland's allereerste Yellow Boot op de markt. Timberland heeft het succes van het merk met name te danken aan deze bijzondere boots. De Yellow Boot staat vandaag de dag bekend als een waar icoon op het gebied van fashion en wordt dan ook overal ter wereld gedragen. De Yellow Boot heeft haar naam te danken aan de opvallende kleur, maar is tegenwoordig ook verkrijgbaar in vele andere versies. De leren boots is een ideale combinatie tussen kwaliteit en functionaliteit en is bijzonder praktisch. Op Outfitonline.nl vindt u een uitgebreid assortiment 6" boots van Timberland. Ook hebben wij andere mooie modellen in het assortiment opgenomen, met dezelfde herkenbare gele kleur.